KUNAMOKST MURAL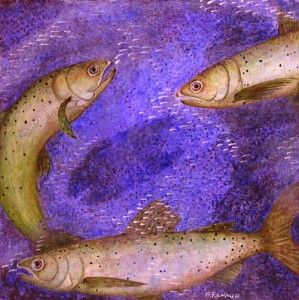 I was asked last September to produce a panel that would be part of a large mural.
Mural mosaic was to produce this project called, Kunamokst .
"Unity through Diversity" was the umbrella concept for Mural Mosaic and we were asked to be inspired by the amazing richness and beauty of the life forms of our  coastal habitat.
                                                                                                                                                                                                                                                                   "The sea trouts" 12″ x 12″ Acrylic on panel
The larger image was unknown to us and we were given a panel loosely painted to be our guideline.
The final unveiling event and the release of the book is taking place this Sunday June the 20th at the Galiano Inn. An event that promises to be exciting in a wonderful setting. The lieutenant governor will be meeting Galiano artists as well as the many other artists who participated.
You to are invited!!!   For all  details clic on Kunamokst
I thought you might like to see the steps that brought this image to be.
no images were found
Here are some thoughts on my chosen subject……
           The gem like quality of a fish freshly out of water has kept me fascinated ever since I can remember. There is something so intriguing about Neptune's Kingdom.
I enjoyed capturing through layers of glazes, the glistening of their bodies in a fluid environment. Their speckled backs and silvery colors are so very attractive to me.
         Of course their speckles are part of a very successful camouflage, a way of being invisible at a most vulnerable time. They spawn like salmon, on gravel in the shallow waters of a riverbed.